Welcome to St Peter's Church in Pedmore, Stourbridge
Please scroll down this home page to see links to.....our latest recorded service, previous services, a request for financial support, Clock restoration, Christian Aid quiz, Thy Kingdom Come prayer material, support during Coronavirus, the Black Country Foodbank, Children's Activities - Messy Church at Home, Prayer Calendar, Current Church of England Guidance, Safeguarding and Contact details.
---
Follow us on Facebook
---
Sunday 31st May - Pentecost

The talk is based upon Acts 2: 1-21
Please click here to listen to the service
Please click here to download the service sheet
=============================================================
Financial Support
Our churches continue to have financial needs. If you would usually bring your collection to church or make a donation on the day, please now will you either send it to your church treasurer, or, if you would like us to pick up your donations, please phone Mary and Tim German on 01562 720393 or David Reeson on 01562 882641.
Those who use internet banking could make a direct transfer to the church account...... Sort Code 40-43-17, Account No 01184458, St Peter's Pedmore PCC at HSBC Bank, 114 High Street, Stourbridge, DY8 1DZ
You may like to consider starting to support the church by setting up a standing order. Please click here to download a form to send to your bank
-----------------------------------------------------------
Clock Restoration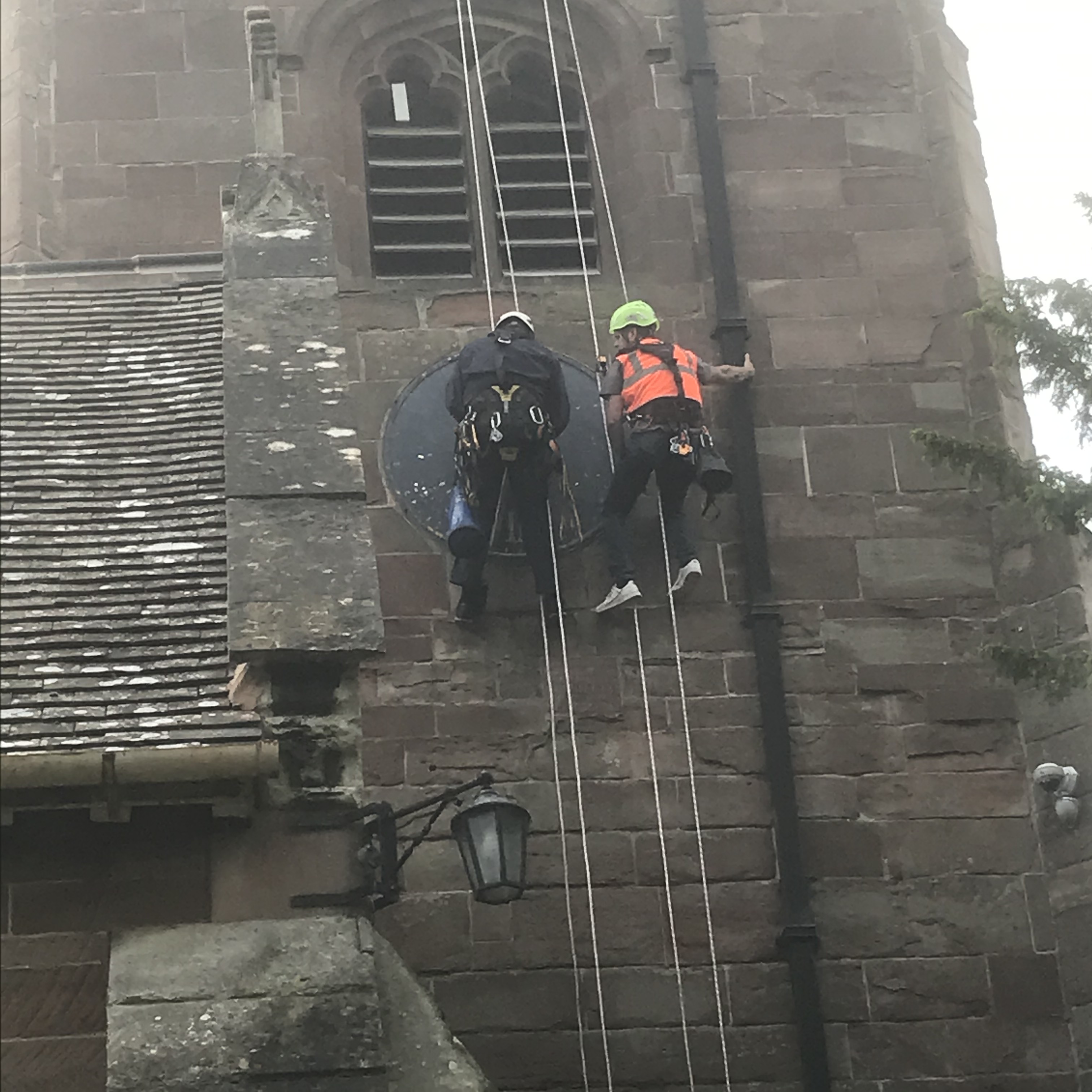 The Clock at St. Peter's is being restored. After much planning, seeking of permissions and project management.... this morning (26th May) .....Steve the Steeplejack and Stuart from Cumbria Clocks abseiled down the tower to take away the clock faces.
Click here for more pictures
------------------------------------------------------------------
Please click here to access previous services
----------------------------------------------------------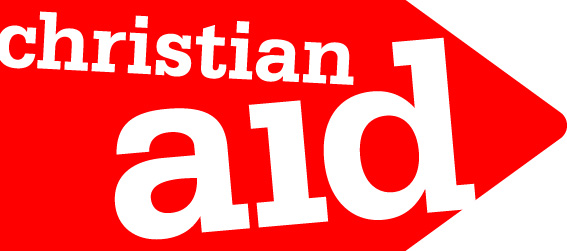 Stourbridge Christian Aid Quiz Night - Thurs 28th May - 6.45 - Click here for details
----------------------------------------------------------

Thy Kingdom Come
Thy Kingdom Come is the title coined for a worldwide prayer movement between Ascension and Pentecost. These days have always been infused with expectation and anticipation — as He ascended, our Lord Jesus Christ promised the gift of the Holy Spirit to enable the disciples to be witnesses. As those first followers waited for the promise to be fulfilled by constantly devoting themselves to prayer (Acts 1:11), so the renewed call across the church is to set these days apart to pray. In the gospels we read again and again how people would bring friends, loved ones, family members, and children to Jesus. This is the focus for our prayers in these next days — most particularly to bring to God five individuals, that they might have an encounter with Jesus Christ.
Please click here to take you to the Thy Kingdom Come material
------------------------------------------------------------------------------------
**Coronavirus Support**
Please don't hesitate to get in touch with Mary or Pauline if you need any support at this difficult time.

We have had many offers of help - have done 154 shops, 58 pharmacy collections, 2 "click and collects" (15.05.20) - but more importantly supported the lonely and bereaved with numerous phone calls ...... providing reassurance and a listening ear. If you know anyone who would benefit from a bit of help please do let us know!
------------------------------------------------------
**Black Country Foodbank**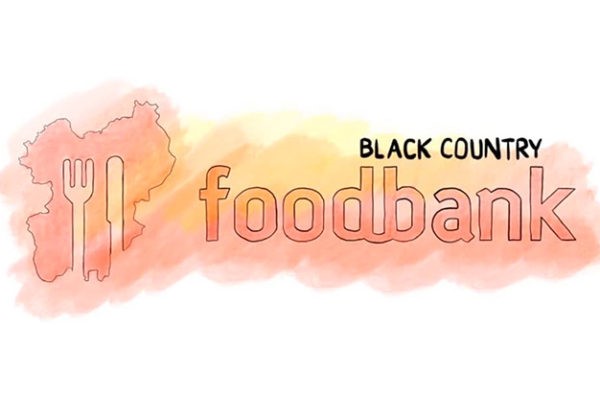 The foodbank will be under great pressure at the moment - inundated with requests - yet not receiving the usual donations.
The foodbank is accepting donations of food or money - please see their website for details of how best to give - www.blackcountryfoodbank.org.uk
Each Tuesday afternoon and Friday morning we deliver donations to the foodbank.
The response since the start of this particular appeal in April has been remarkably generous with 60 bags this week alone..... 3 large car loads... and a total of over 200 bags so far! (15.05.20)
Message from Joy Moss - from Replenish the Stourbridge branch of the Foodbank:
"Just to say a huge thank you to everyone from St Peters Church (and the wider community) for the tremendous amount of donations since lockdown. Just from May 1st up to yesterday (19th), 536kg of food and 107kg of toiletries has been given. Half a tonne of food in just two and a half weeks, from one church, is unbelievable! Please pass on our thanks and I will give a further update at the end of the month. Many, many thanks, Joy from Replenish."
Any food or non-food donations can be left in the porch of 128 Ham Lane, or, to arrange for collection please ring 01562 720393.
Current Shortages
FOOD SHORTAGES
TINNED POTATOES / INSTANT MASH, Tinned Fruit, Tinned Meat e.g. Meatballs or Fray Bentos Pies, LONG LIFE FRUIT JUICE -1L cartons, TINNED SPAGHETTI,
TINNED RICE PUDDING, Tinned Tomatoes TINNED FISH,
TINNED FRUIT, SMALL JARS INSTANT COFFEE, LONG-LIFE (UHT) MILK - 1L CARTONS
NON-FOOD SHORTAGES
DEODORANT, SHAMPOO, Single toothbrushes, SOAP, HAND-SANITISER, WASHING-UP LIQUID
___________________________________________________
Children's Activities at St. Peter's Church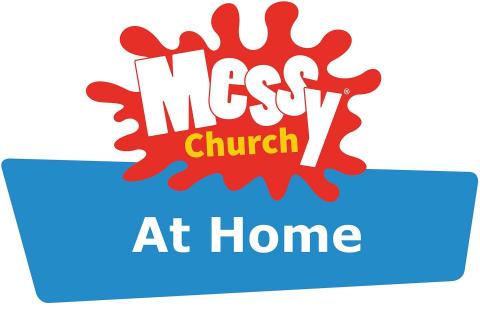 'Messy Church logo © The Bible Reading Fellowship 2019.

The St. Peter's Team are busy creating a June 'Messy Church at Home Package'
Click here to take you to the Messy Church Page where you will find all the details.
Best wishes from the Messy Church Team at St Peter's, Pedmore.
***************
Toddler Group
The Toddler Group is postponed until further notice. However, as soon as public social gatherings are allowed, we will look to re-start the group again.
We look forward to seeing you all again in the near future.
Best wishes from the Toddler Group Team
_____________________________________
Prayer Calendar.
Please click here for our Prayer Calendar; please join us in daily prayer for St. Peter's Church, its parish, its work, its worship and its witness.
--------------------------------------------------------------
**Church Services**
In light of the Government guidance around non-essential contact, the Archbishops of Canterbury and York have issued advice that public worship is suspended until further notice.
To access the Church of England Guidance please click here.
Please do pray for all who are suffering ill health as a result of the current outbreak of coronavirus, remember those working in health care, those who are facing uncertain times because of work places being closed and those who are anxious in the face of uncertainty.
---
Safeguarding
We at St Peters Church are committed to keeping children, young people and vulnerable adults safe and to enable them to worship and grow in Christ safely. If you would like more information or to speak to someone please click here.
---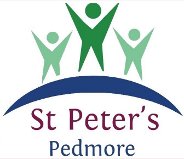 Our Vision
"Our vision is to be a growing all age church, experiencing and sharing the love of God with the people of Pedmore."
Our Aim
Our aim is to celebrate the love of Jesus Christ and share it by word and action - and we would be delighted to welcome you!
Our Church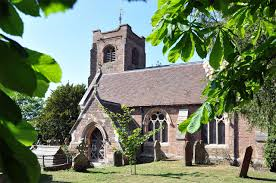 Our church services vary in formality, but all aim to help those who attend to worship God and learn more about him in the person of Jesus Christ.
If you are able to visit our church you will receive a very warm welcome, and find services designed to help you to worship.
We hope you find the website helpful - please do contact the Church Office for any further information; Tel 01562 887287 and e-mail stpeterspedmore@hotmail.com
Our Priest in Charge
The Rev David Nichol can be contacted by phone: tel. 01562 229470 or e-mail davidnichol1958@gmail.com

---
Please click here for a table of weekly events.
---
St Peter's Church is in the Diocese of Worcester, please click the logo below to access the Diocesan website.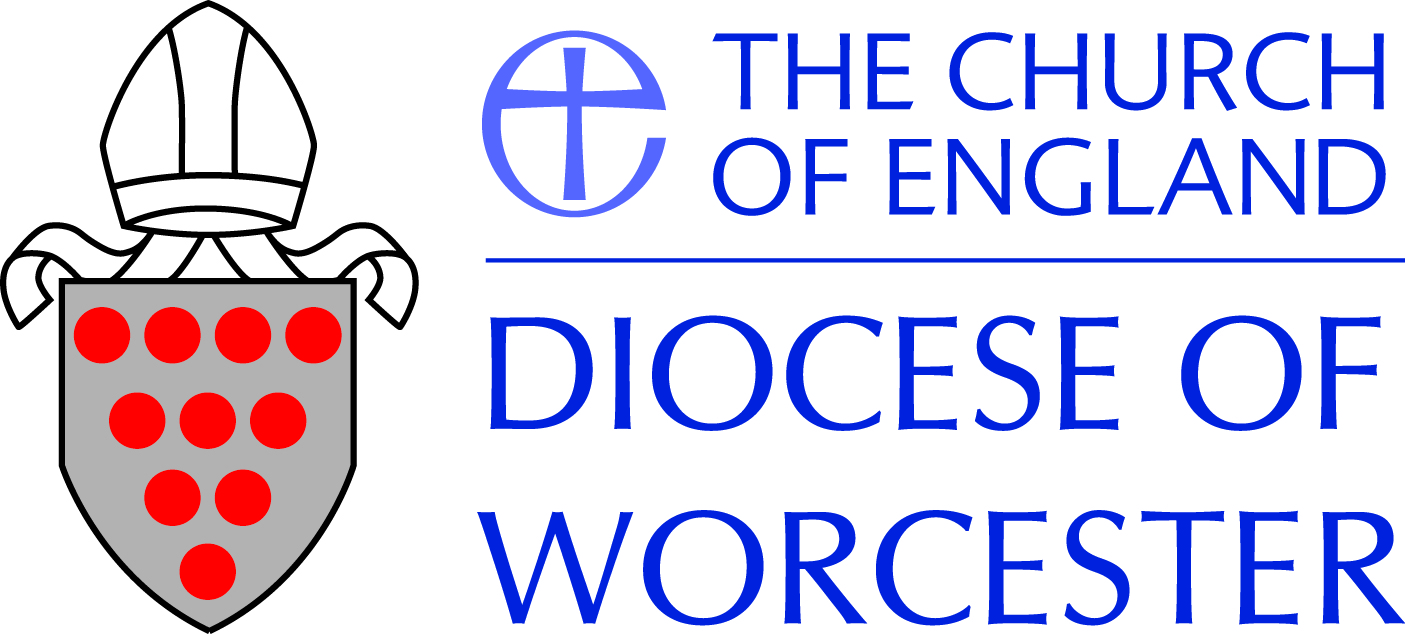 St Peter's Pedmore PCC Charity Number: 1133783