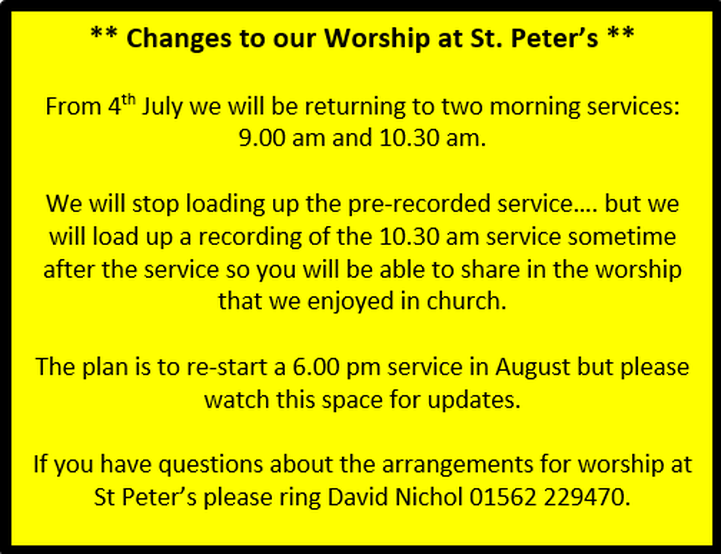 ---
Sunday 20th June 2021
A video of the 9.30 service will be loaded here by 11.15 on Sunday
Please click here to download a copy of the Church Service Sheet for Sunday 20th June
Please click here to download a copy of the CD Service Sheet for Sunday 20th June
Please click here to listen to an audio version the service for Sunday 20th June
**********************************************************
Please click here to access recordings of previous services
*********************************************************
Love Your Churchyard Event - Sat 5th June - Sun 13th June
"Caring for God's Acre" was established in 2000 as a national charity, promoting the conservation of Churchyards. Often these sites have been set apart for centuries and as such offer much needed refuge for our native wildlife of all varieties – plants, mammals, invertebrates, reptiles.
At St. Peter's we have deliberately not done any mowing or strimming in the churchyard during May. This is so that our 'minibeasts' and wildlife have a chance to thrive and multiply.
During the week 5th - 13th June the churchyard will be open for visitors, especially children and families to explore and search for the wealth of wildlife that lives here.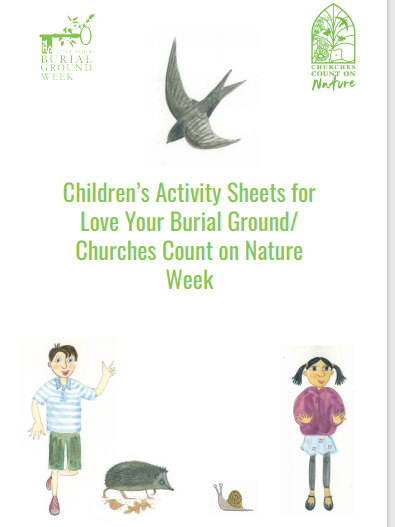 Please click here to download a whole range of children's activities to undertake during a visit during the week.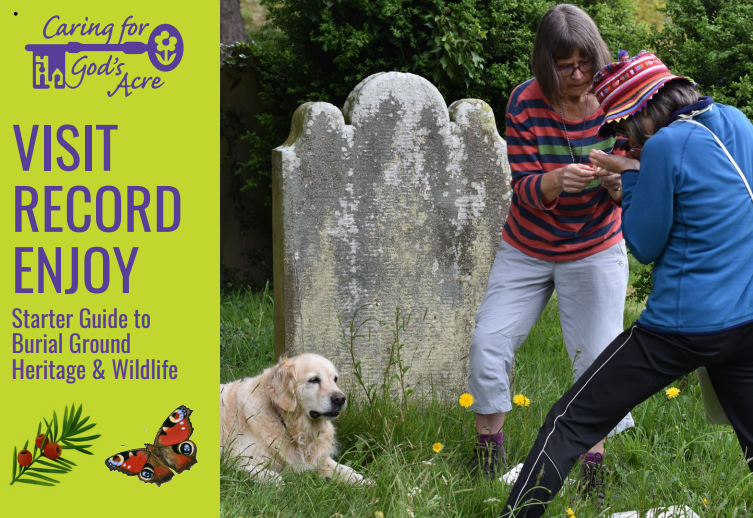 For those that would like to learn more about caring for our churchyard please click here for a copy of a starter guide
or contact Pauline - tel. 01562 883783
*********************************************************
St Peter's Centre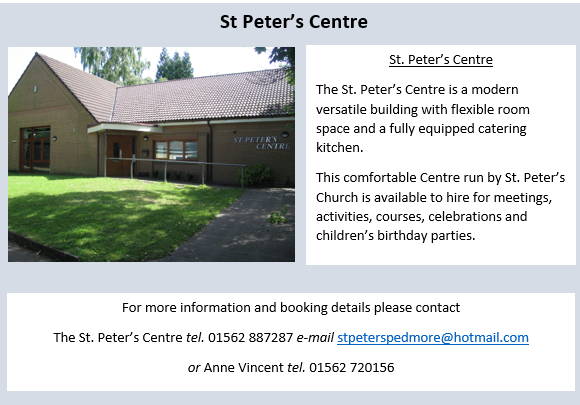 **********************************************************
St. Peter's Community Support
If you need support as we come out of this latest lockdown - with shopping, pharmacy trips - any help or a listening ear..... please phone Mary (01562 - 720393) or Pauline (01562 - 883783)
*************************************************************************************
**Black Country Foodbank**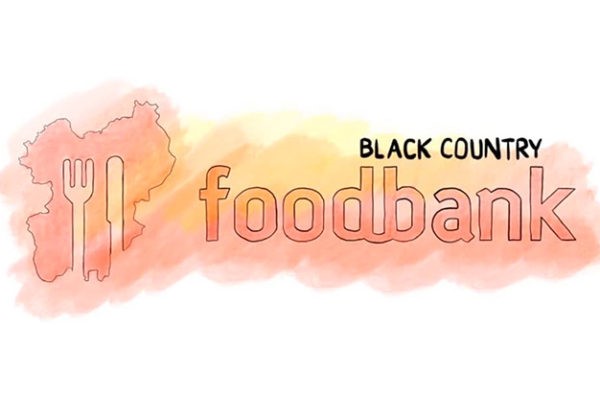 The foodbank continues to be under great pressure - inundated with requests - yet not receiving the usual donations.
The foodbank is accepting donations of food or money - please see their website for details of how best to give - www.blackcountryfoodbank.org.uk
Each Tuesday afternoon and Friday morning we deliver donations to the foodbank.

Any food or non-food donations can be left in church or the porch of 128 Ham Lane.
To arrange for collection please ring 01562 720393.
Current Shortages
FOOD SHORTAGES
Tinned Potatoes / Instant Mash, Tinned Fruit, Tinned Meat, Long Life Fruit Juice, Tinned Rice Pudding, Tinned tomatoes, Tinned Fish, Bags of Rice (1Kg), Jam / Marmalade, Small Jars of Instant Coffee, Long-Life UHT 1L-Cartons), Tinned Spaghetti.
NON-FOOD SHORTAGES
Deodorant, Shampoo, Soap, Flannels/sponges, Toilet rolls, Adult Single Toothbrushes, Shower Gel, Washing Up Liquid.
___________________________________________________
Click here for a "photo tour" of the church
Click here to see the story of the clock restoration in pictures
*********************************************
Financial Support
Our church continues to have financial needs. If you are not able to return to church following our re-opening, but still want to give your collection, please now will you either send it to the church office, or, if you would like us to pick up your donations, please phone David Reeson the church treasurer on 01562 882641.
Those who use internet banking could make a direct transfer to the church account......
Sort Code 40-43-17; Account No: 01184458; Account Name: St Peter's Pedmore PCC ..........at HSBC Bank, 114 High Street, Stourbridge, DY8 1DZ
You may like to consider starting to support the church by setting up a standing order. Please click here to download a form to send to your bank
****************************************************
Prayer Calendar.
Please click here for our Prayer Calendar; please join us in daily prayer for St. Peter's Church, its parish, its work, its worship and its witness.
--------------------------------------------------------------
Safeguarding
We at St Peters Church are committed to keeping children, young people and vulnerable adults safe and to enable them to worship and grow in Christ safely. If you would like more information or to speak to someone please click here.
---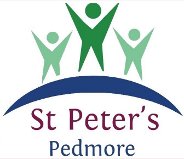 Our Vision
"Our vision is to be a growing all age church, experiencing and sharing the love of God with the people of Pedmore."
Our Aim
Our aim is to celebrate the love of Jesus Christ and share it by word and action - and we would be delighted to welcome you!
Our Church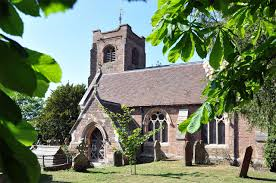 Our church services vary in formality, but all aim to help those who attend to worship God and learn more about him in the person of Jesus Christ.
If you are able to visit our church you will receive a very warm welcome, and find services designed to help you to worship.
We hope you find the website helpful - please do contact the Church Office for any further information; Tel 01562 887287 and e-mail stpeterspedmore@hotmail.com
Our Priest in Charge
The Rev David Nichol can be contacted by phone: tel. 01562 229470 or e-mail davidnichol1958@gmail.com

---
Please click here for a table of weekly events. (Much of our programme of events has been curtailed during the current restrictions. Please contact the church office for details; Tel 01562 887287 and e-mail: stpeterspedmore@hotmail.com).
---
St Peter's Church is in the Diocese of Worcester, please click the logo below to access the Diocesan website.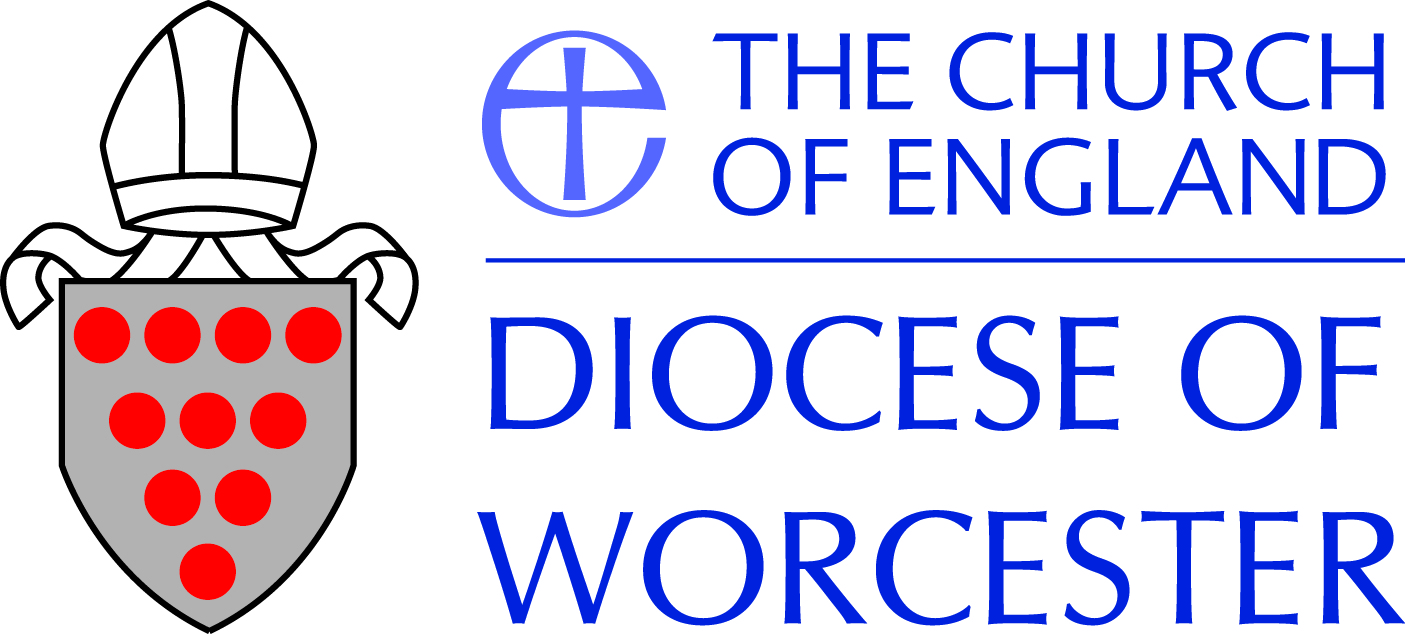 St Peter's Pedmore PCC Charity Number: 1133783