Peru
For over a decade we've been linked with the parish with La Ascensíon in the Surco district of southern Lima, Perú.
Through the year we keep in touch with news and particularly praying for the mission of our churches in Lima and Pedmore and the needs of church members. It is a real privilege to know that the people at the Ascensíon regularly pray for us in Pedmore.
La Ascensíon is led by the Jerry and Edith Acosta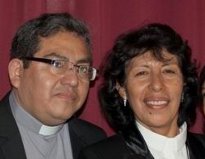 Anna Sims, our Church Mission Society link partner, has La Ascensíon as her "home church" while having a prison ministry and supporting children's work throughout the country.
Anna visited us for the weekend of 11th/12th May 2019 and talked at each of our services. We were delighted to hear her speak and moved by the testimonies of the women prisoners she is supporting.
We've enjoyed visits in both directions. Fourteen of us went to Peru in 2004 and in 2010 we invited the Revd. Alberto Valdivia, then the minister at La Ascensíon, and his wife Giannina and son Juan Daniel to visit Pedmore. We've been delighted too by visits by Bishop Bill and Judith Godfrey (Bishop of Perú), Assistant Bishop Mike and Linda Chapman, and Charo Saavedra. And we've received a warm welcome in Perú.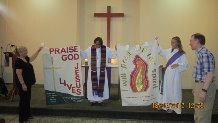 Jesus prayed "That they may all be one, even as we are one". Through our link we experience that Jesus makes a difference to differences: being "all one in Christ Jesus" (St Paul) is greater than the differences of race, language and way of life.
We all need a purpose in life for good, whether in the affluence of England (and very small parts of Perú) or the poverty of most of Perú (and some parts of England), that is only found when our universal spiritual poverty is transformed by our experiencing Jesus' death and resurrection to bring us new his life and the power to do good.